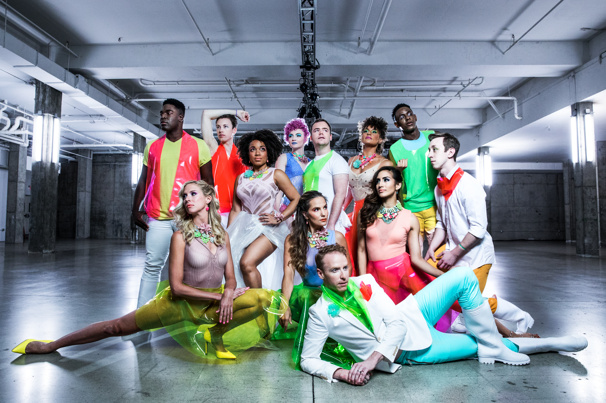 The company of Broadway's 'Charlie and the Chocolate Factory' photographed at Skylight Modern
(Photos: Matthew Murphy)
If you've got a sweet tooth for rainbow bright sets and costumes, an addictive score and big, splashy dance numbers and performances, Broadway's Charlie and the Chocolate Factory is your treat of choice. In addition to pheonomenal principal perfomers led by two-time Tony winner Christian Borle, the ensemble of the show truly transports audiences to that world of pure imagination with the moves of acclaimed choreographer Joshua Bergasse, making this musical one to savor. At a recent photo shoot, Broadway.com photographer Matthew Murphy captured ensemble stars Yesenia Ayala, Darius Barnes, Colin Bradbury, Ryan Breslin, Paloma Garcia-Lee, Stephanie Gibson, Talya Groves, Cory Lingner, Elliott Mattox, Monette McKay, Kyle Taylor Parker and Katie Webber demonstrating their sweet moves in an array of kaleidoscopic colors. Take a look!

Photos: Matthew Murphy | Styling: David Withrow | Hair & Makeup: Nicolette Gold and KeLeen Snowgren | Assistants: Ricky Rodriguez and Evan Zimmerman | Shot on location at Skylight Modern